Public Speaking Without Fear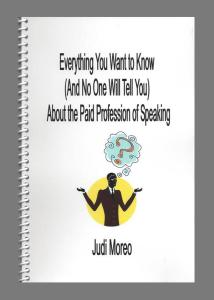 Public speaking holds the #1 position on the list of fears in the Book of Lists. So, you can clearly see you are not alone. Many people suffer from the fear of standing up in front of a group of people and expressing themselves. For some, the experience is so paralyzing, they can't even think what to say or they become tongue-tied. This doesn't have to be you!
This workshop is full of tips and techniques that will make any presentation easier. You'll learn powerful skills that will make you appear as though you have done this a million times and are comfortable doing it. You'll learn to create captivating presentations, connect with your audiences, sell your ideas, and persuade others to take action. You'll feel more confident, more calm and in control, and more effective. You'll also learn how to give impromptu speeches and handle question and answer sessions with ease.
In addition, this powerful course also teaches you how to use humor effectively, how to use your voice for emphasis and to create mood, how visual poise affects your audiences response to you and it will even help you decide which audiovisual medium will work best for your presentations.
If you get in a panic when someone says you have to do a presentation, this course is for you. You will learn to calm your nerves, stay focused, and speak like a professional.
Judi Moreo has been a professional speaker for over thirty-five years and has experienced most any type of difficult or nerve-wracking speaking situation. She will share with you what to expect and how to deal with the unexpected. Judi knows. She's been there!
Formats:
Keynote/General Session: 45 min. – 90 min.
Workshop: 2 hours to 6 hours
Supporting Topics:
Marketing Yourself As a Professional Speaker
Methods of Millionaire Messengers Mbizo   (4 day weekend retreat)
"Judi Moreo is simply indescribable in mere words. We all had a rare opportunity indeed to witness, hear, and especially learn a few life lessons not only through what this truly remarkable woman had to say but especially how she delivered those lessons. She's incredibly funny! If you are planning an event and want an inspiring, adventurous, poignant, and witty speaker, you certainly couldn't possibly find anyone who would please you more."
"Judi Moreo is EXTRAORDINARY in every way. Judi started to work with me in South Africa as a guest speaker over 15 years ago. The messages she delivers are always sincere, relevant, and ignite her audiences. Judi is an asset to everyone whose lives she touches!"