Look Who's Wrecking Your Company Now!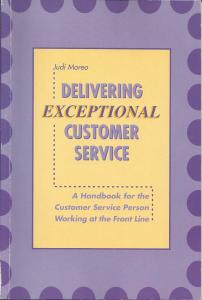 Do your employees stand around chatting while customers are waiting to be served? Do customers have to wait, without being acknowledged until your employee gets off the phone? Have any of your employees ever told a customer that he is wrong or should "come back tomorrow and tell someone who cares?"
If so, Look Who's Wrecking Your Company Now! is your wake-up call. Satisfying your customers is the best strategy for gaining a competitive advantage.
From the customer's viewpoint, the employee who waits on him or her IS the company. If this employee is courteous, helpful and knowledgeable, your organization is perceived as an organization that looks after its customers. If the employee is rude, inattentive and lacks product knowledge, your organization is perceived as being uncaring.  Don't let that happen to your organization!  Customers want to be important and to be treated in a manner which makes them feel important.
Customer service is the interrelationship between ALL persons involved with an organization…externally and internally. It is no longer the job of a particular person to take care of customers. Everyone in the organization either serves external customers or serves someone who serves external customers. Therefore, customer service is everyone's job!
This program is packed full of techniques you can apply to your unique workplace to get positive "win-win" outcomes. If you are looking for a way to differentiate your business from your competition, customer service is the answer. Judi will share ways in which you can take a multifaceted approach to satisfy your customers and ensure customer retention and customer loyalty.
Formats:
Keynote/General Session: 45 min. – 90 min.
Workshop: 2 hours to 6 hours
Supporting Topics:
How to Handle Difficult Customers, Complaints, and Situations
How to Deal with Negativity in the Workplace
"The Customer Service workshop led by Judi Moreo brought a new dimension to the 4th World Chambers Congress. Judi's workshop provided a new spark to our program, by taking us to the foundation of all our organizations, tackling an issue which can either make us or break us – customer service. With sound advice to chamber leaders from a diverse background of 84 countries, Judi's session was one of our most popular workshops – standing room only."